156 BATTALION
PARACHUTE REGIMENT MEMORIAL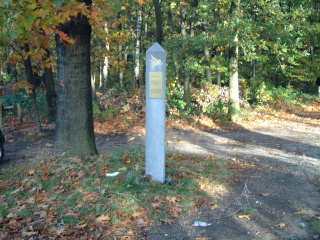 156 Battalion Parachute Regiment was commanded by Lieutenant Colonel Sir R. de B. des Voeux and dropped in the Second Lift on DZ 'Y'. It went in with 479 men, transported in 34 C-47s; its vehicles went in 7 Horsas and a Hamilcar. Losses during the Arnhem operations were 98 dead, 68 evacuated wounded and 313 missing - many of them prisoners. Lieutenant Colonel des Voeux was amongst those killed.
This is one of the Airborne Commemorative Markers and is on the spot where 156 Para were stopped by German forces on 19th September 1944. At various points the adjacent road was No Man's Land, with the Paras dug in in the trees to the West (left), and the German SS units in the trees to the East (right). If you walk around this area, the remains of foxholes, machine-gun and mortar pits are still visible.
Update - When I returned to this area in September 2005 the eastern side of the road had been turned into a cycle track, and fences put up on both sides, restricting access to the ground where remains of the forward positions are found. However, it is still possible to see some of them, being mindful that this is private property.

ŠPaul Reed 2002-5