6th GREEN HOWARDS
6th June 1944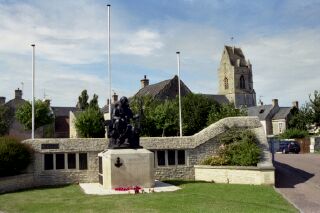 Memorial to the Green Howards, Crepon.
Commanding Officer – Lt Col Robin Hastings
6th June 1944
0635 – Approaching the French coast. Allied bombers and fighters flying in to bomb and engage coastal batteries, that may hinder the landings.
0710 – A,B,C,D Companies and Battalion HQ aboard LCAs and making for the shore. High tide and a little choppy. Allied navies engage enemy shore batteries.
0735 – H Hour.
0737 – A & D Companies assault the beach between 910869 and 918868 on King Green Beach. A Company attack the heavily defended concrete gun positions in the area of Mount Fleury 917863, Both positions were attacked successfully. Low number of casualties. The reserve companies C & B followed A & D companies. B Company moved to 908863 and attacked enemy positions, clearing a quarry occupied by the enemy. C Company moved to the area 904850 which was the battalion re-organising area.
1000 – All companies and HQ, also the support companies, were established ashore and proceeding to the battalion re-organising area. Enemy falling back. Snipers hiding in the houses, woods and hedgerows, are giving trouble, and holding up the advance. Many POWs sent back to the beaches.
1200 – By midday the battalion reported to Brigade the success of Phase 1, and were pushing fast to the area of Crepon.
1300 – Reported there was strong resistance west of Crepon. The battalion now advancing and if there is any resistance, by-pass it unless unavoidable.
1400 – A Company called on a party of Germans to surrender who were in a house near Crepon. They refused, a substantial dose of Bren Gun fire and Sten Gun fire was reigned on them. They came out under a white flag.
1500 – The battalion are now south of Crepon and approaching Villers-le-Sac. BHQ passed through Crepon 1530 hours, previously reported by 5th East Yorks it had been cleared by 1510.
1700 – Brigade reported 100 tanks on the move west of Caen. The RAF continued to bomb and strafe the enemy, although enemy tanks reported advancing north-east from Rucqueville. Battalion continued its advance towards St Gabriel, being heavily shelled.
1800 – Enemy armour moving from Rucqueville; reported they had reached Brecy by 1900 hours. 86th Field Regiment RA reported enemy movements in the area of St Gabriel. At 1950 hours the Brigade ordered the battalion to halt the advance towards St Gabriel, as the enemy infantry and tank opposition was too much.
2030 – Continued the advance.
2100 – Occupied the area west of St Gabriel under cover of a heavy barrage laid down by the 86th Field Regiment RA and a heavy MMG concentration laid down by B Company of the 2nd Cheshires.
Source – PRO WO171/1302.
ROLL OF HONOUR: 6th GREEN HOWARDS 6th JUNE 1944
©Paul Reed 2002-2006