ALBANETA FARM, CASSINO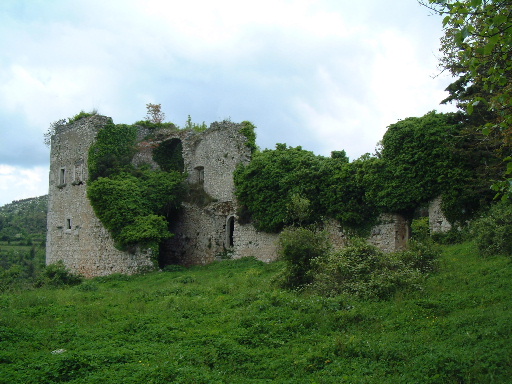 Albaneta Farm, or Albaneta House, or even 'The Nunnery' (although there never were ever any nuns here!), was an ancient farm complex below Hill 593 and on a 'back-door' route to the monastery of Monte Cassino. Occupied by German troops early in the fighting, it was the scene of heavy fighting on 19th March 1944 when the 20th Armoured Regiment of the New Zealand Forces pushed up through Cavendish Road in an attempt to launch an armoured thrust which would outflank the positions at Monte Cassino. German paratroops, dug in around the strongpoint of Albaneta Farm beat the tank attack, unsupported by its own infantry, back. In total nine tanks were lost, along with five dead and nine wounded.
Polish armour and infantry assaulted the farm in the May 1944 attack, and this time took - although with heavy losses to Shermans as the Germans had mined the route after the previous attempt.
Visiting the farm today is not easy: the only way to reach it is to drive to the Polish Cemetery. The Polish monument on Hill 593 is signposted here, but through a gate that is often locked. If the gate can be negotiated, either walk or drive, and where the road bends to go up to Hill 593, take a left hand fork going downhill. You will pass another Polish memorial, and then reach the area of Albaneta Farm. This is not a through road, so you will have to return via the same route. Walking, it would take over an hour from the car park. In a car much less, although the road/track can be difficult in places - especially after or during poor weather conditions.
Nearby is the Polish Memorial which is one of the Sherman tanks knocked out here in 1944.
| | | | | |
| --- | --- | --- | --- | --- |
| | | | | |
| General view of Albaneta Farm. | Some of the defences still visible. | Inside the farm. | Albaneta Farm in 1944. | Map of Albaneta Farm battlefield. |
ŠPaul Reed 2005