BEACHHEAD WAR CEMETERY, ANZIO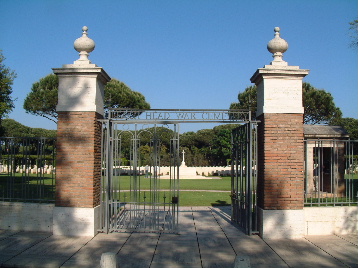 LOCATION
Anzio is a coastal town 70 kilometres south of Rome. To reach Anzio take the Route No.148 Superstrada Motorway, which runs between Rome and Latina. Turn off the Superstrada at the No.207, following the signs towards Anzio. The route is well signposted from the Superstrada. The Cemetery lies 5 kilometres north of Anzio town on the No.207 and Commission signs are visible 150 metres from the cemetery. There is a small parking area at the main entrance. Beach Head War Cemetery should not be confused with Anzio War Cemetery which lies just off the No.207, 1 kilometre north of Anzio. The cemetery is permanently open and may be visited anytime.
CEMETERY INFORMATION
Operations in January 1944 landed troops behind the German lines at Anzio, but defences were well organised, and a breakthrough was not actually achieved until May. The site of the cemetery originally lay close to a casualty clearing station. Burials were made direct from the battlefield after the landings at Anzio and later, after the Army had moved forward, many graves were brought in from the surrounding country. Beach Head War Cemetery contains 2,312 Commonwealth burials of the Second World War, 291 of them unidentified. There is also one First World War burial which was brought into the cemetery from Chiete Communal Cemetery near Rome.
ŠPaul Reed 2006