D-DAY PLUS 60
REMEMBERING D-DAY
6th JUNE 1944 - 6th JUNE 2004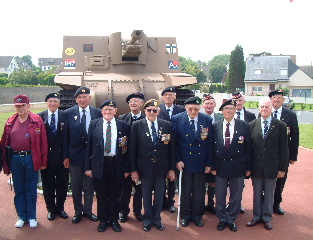 Normandy veterans at Hertford Corner, Gold Beach, Ver-dur-Mer
My work as a Battlefield Guide with Leger Holidays often puts me in the lucky position of being able to meet many WW2 veterans. However, I was truly lucky for the tour we did over the 60th Anniversary of D Day to have 25 veterans on board my coach. This made it a very memorable weekend, and we were all grateful for their stories and good humour; and many poignant memories willingly shared.
Our party included those who had served in the Royal Navy, the infantry, the Parachute Regiment, a Machine Gun battalion, armoured units, the Royal Army Service Corps and Royal Artillery. Among them they had served at battlefields as far apart as Dunkirk to Burma, and including North Africa, Italy and Norway.
To honour them and the weekend we spent in remembering those who fought and died in Normandy, here are some selected photographs from the tour. Click on a photo to enlarge it.
Paul Reed
June 2004

Email: ww2battlefields@hotmail.co.uk

Photo Album - 5th June 2004
| | |
| --- | --- |
| | WW2 veterans from my group gather at the hotel before leaving for our Normandy tour. On the left is Eric Paternoster, who served with the 2nd Bn Manchester Regiment, latterly in India. On the right is Alex Conway who fought with the 2nd Argyll & Sutherland Highlanders in Normandy, part of 15th (Scottish) Division. |
| | When we visited Arromanches, the veterans had an impromptu ceremony overlooking the Mulberry Harbour. |
| | Meanwhile the Somme Battlefield Pipe Band were playing in the streets of Arromanches. |
| | We then visited the landing beaches, starting at Gold Beach. At the memorial to 86th Field Regiment RA in Ver-sur-Mer, the veterans again had a small ceremony, which attracted much attention from locals and other visitors. |
| | One of these turned out to be a Royal Naval veteran, Mr X, who had landed the 86th Field Regiment on Gold on D Day. Here he is pictured with Harry Inns, who also landed on Gold Beach with the Royal Artillery. |
| | Myself (right) pictured with Mark Remon (himself a veteran of the Falklands) who acted as Standard Bearer all weekend. |
| | On Juno Beach we visited the famous house which overlooked the site where the Queen's Own Rifles of Canada came ashore. The veterans paraded for us to pay our respects to Canada. One of them had come in to Juno Beach himself in 1944. |
| | Several of our veterans had come ashore via Sword Beach, including Jim Myers, who fought in Normandy with the 4th Somerset Light Infantry, of 43rd (Wessex) Division. He is pictured here with his wife, close to where he landed. |
| | At Hermanville War Cemetery we joined forces with Commando veterans for a short service. Veterans from 1st Norfolks and other units in 3rd Division had also been here this day. |
| | We ended the 5th June of at a very busy Pegasus Bridge and Gondree Cafe just after the Parachute Drop on DZ 'N' had taken place. |
| | Having thought all the drops were over, we were really pleased to see a lone Dakota come over and drop a few sticks. This one is pictured from Bennouville. |
Photo Album - 6th June 2004: 60 Years After
| | |
| --- | --- |
| | The main focus of today was to attend the Service of Remembrance at Ranville War Cemetery. As the crowds assembled, there were dozens of WW2 veterans present. The gentleman on the right won the Military Medal with the East Yorkshire Regiment in the Western Desert, where he was taken prisoner, meeting Rommel. |
| | Walking up to the cemetery, the roads were lined by serving soldiers of 1st Battalion Parachute Regiment. |
| | Another one of our party was Mr R.Trott, who had served with the 1st East Riding Yeomanry RAC, landing at Sword Beach on 6th June 1944. |
| | The veterans shelter in the shade of the trees, as the day got hotter and hotter. The Parachute Regiment veteran was Des Street BEM, who served with 4 Para in Operation Dragoon, following previous experiences in Italy. |
| | The drumhead service at Ranville War Cemetery. |
| | As the ceremony came to an end, the Dakota we had seen the day before flew low over the cemetery, much to the delight of all those present. It was a superb conclusion to a moving morning. |
| | Moving on to the Merville Battery, the veterans had one last ceremony. The tall gentleman third from left is Bill Towill, who served at Dunkirk and then in Burma. He is editor of the Burma Star Association journal 'Pagoda' and has written his memoirs. |
| | Returning to again, a very crowded Pegasus Bridge, we saw the march past and enjoyed a well earned drink in the sunshine. |
| | Some ventured into the Pegasus Memorial Museum to see the replica Horsa Glider which Price Charles had unveiled the day before. |
| | We ended our day back at the hotel, where the group continued to share stories and experiences of the events sixty years before. A truly memorable day for all concerned. |
ŠPaul Reed 2004-2006