FAENZA WAR CEMETERY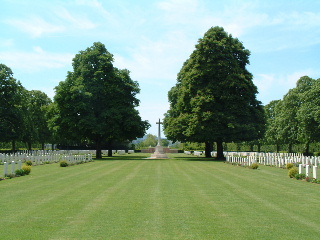 LOCATION
Take the Bologna-Ancona autostrada A14 and exit at Faenza. The War Cemetery lies 1.5 kilometres south-east of Faenza and is approached by a secondary road which branches off the main road Bologna-Forli (Route No.9) just east of the town.
CEMETERY INFORMATION
The war cemetery was formed in the winter of 1944 for the burial of those who were killed in the static fighting before the Allied advance was renewed in April 1945. Faenza War Cemetery contains 1,152 Commonwealth burials of the Second World War.
ŠPaul Reed 2006