FALAISE POCKET - MONTORMEL
AUGUST 1944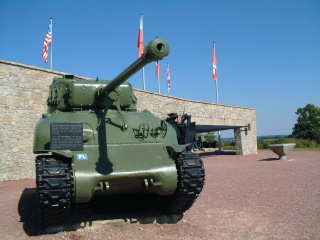 Following Operation Bluecoat, and the failed German counter-attack at Mortain, the Americans advanced and took Alencon then Argentan. At the same time the Canadians took Falaise. The Germans began retreating through the ground the ground between Trun and Chambois. A 'pocket' was created when Trun was taken, and the Allies met up in Chambois. In the middle were the Germans, being mercilessly pounded by artillery and airstrikes. The only escape route was across Hill 262 - Montormel - and General Maczek's Polish Armoured Division, part of the Canadian Corps, occupied the positions on Hill 262 North on 19th August blocking the main route for the escaping Germans. Now isolated, the Poles waited for relief and support from the Canadians. Over the next few days bitter fighting took place on what the Polish later called the 'Maczuga' (the 'Mace' - Hill 262 itself). On many occasions the Germans penetrated the Polish perimeter. By 22nd August the 4th Canadian Armoured Division finally met up with the Poles, and the fighting was over.
Casualties had been heavy: the 1st Polish Armoured Division lost 325 killed, 1002 wounded and 114 missing - then about 20% of the units strength.
Today Montormel is a Polish Memorial site, with an excellent visitors centre, the Memorial de Montormel. The dead from the battle are buried in the Polish cemetery at Granville-Langannerie, on the road between Falaise and Caen.
MONTORMEL - PHOTO ALBUM
CLICK ON IMAGE FOR LARGER VERSION

The Main Memorial - Montormel

M4 Sherman - Montormel

M8 Greyhound of 2nd DB French Army, Montormel

View into the Falaise Pocket from Montormel
ŠPAUL REED 2002