HOTTOT LES BAGUES WAR CEMETERY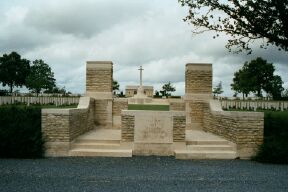 British - 965
Canadian - 34
Australian - 3
New Zealand - 2
South African - 1
German - 132

HISTORICAL INFORMATION: Most of the burials were brought into this cemetery from the surrounding district, where there was much heavy fighting through June and July 1944, as the British forces tried to press south from Bayeux and swing round to the south of Caen. There are now 1015 1939-45 Commonwealth war casualties commemorated in this site. Of these 56 are unidentified. Also commemorated here are 132 Foreign Nationals and 1 non-world war casualty.
LOCATION: The cemetery can easily be reached from Bayeux by taking the D6, travelling south-east. After about 13 kilometers, and after passing through Tilly-sur-Seulles, turn right (westwards) at Juvigny onto the main road (the D9) that runs from Caen towards Caumont l'Evente. The cemetery will be found after a few hundred metres on the right hand side on rising ground. There is a lay-by to park in at the side of the road.
PERSONALITIES: Constructed on two levels, the initial graves in Plot 1, rows A and B, on the left are of CANLOAN officers. These were Canadians commissioned into the Canadian Army and attached to British units in the field. There were large numbers of them in Normandy, particularly as junior officer casualties were high after the landings. Plot 3 has a large number of tank crews in it, in Plot 8, rows A and B, are numerous burials from the Scots Guards killed on the 30th July 1944 fighting: among them Major S.J.Cuthbert (Plot VIII, Row A, Grave 1). Cuthbert was killed serving with 3rd Scots Guards; his father, a Captain in the Scots Guards with the DSO, had been killed in the Battle of Loos in September 1915, during the First World War.
Plot 8, Rows G, H and I, and Plot 10, rows E, F, G, all contain casualties from the Duke of Wellington Regiment (West Riding) killed on 18th June and 16th-18th July 1944.
There are two senior officers buried here:
Brigadier John Roland Mackintosh-Walker DSO, MC + 2 Bars
Seaforth Highlanders
Commanding 227th (Highland) Brigade
Killed in Action 17th July 1944, aged 46.
(Plot VII, Row C, Grave 14)
He was the son of T. C. B. and Marianne Mackintosh-Walker, of Geddes, Nairnshire.
Brigadier James Hargest CBE, DSO + Bar, MC, ED.
New Zealand Infantry
Killed in Action 12th August 1944, aged 53.
(Plot I, Row C, Grave 2)
Brigadier Hargest was also awarded the Chevalier de la Legion D'Honneur and Greek Military Cross, 1st Class. He was the husband of Marie Henrietta Hargest of Rakauhauka, Southland, New Zealand.
James Hargest was a veteran of the First World War, where he served at Gallipoli and on the Western Front. He was active in New Zealand politics after the war, and was a Member of Parliament. He commanded a Brigade on Crete, and was taken prisoner in North Africa and sent to a POW camp in Italy (Campo 12) where he met other senior officers, among them Adrian Carton de Wiart VC. It was from here he escaped, and made his way back to England via France. In doing so, he became the most senior officer to escape during WW2. During the Normandy campaign he became an official observer, and was attached to the 50th (Northumbrian) Division staff. As the breakout looked imminent, Hargest was recalled by the New Zealand government and went round to visit friends before departing. While doing so he was killed by mortar fire. His memoirs of captivity and escape where published posthumously under the title Escape From Campo 12.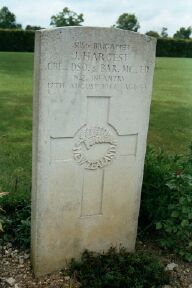 Brigadier James Hargest's grave
ŠPaul Reed 2002-2006