JERUSALEM WAR CEMETERY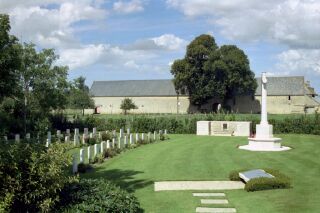 British - 47
Czech - 1
Unidentified - 1
HISTORICAL INFORMATION: This is the smallest War Cemetery in Normandy, and one of the smallest from WW2 in North-West Europe. It was started in June 1944, while fighting was taking place in the area around Tilly-sur-Seulles. The nearby farm buildings were used as an Advanced Dressing Station by the RAMC, and several of those buried here died of wounds in the farm. As the fighting moved into the Bocage beyond Tilly the cemetery was no longer used, and there were no post-war reburials here.

LOCATION: From Bayeux take the D6 south-east towards Tilly-sur-Seulles. The cemetery will be found after about 8 kilometres on the left hand side of the road at the bottom of a down hill stretch. You can park close to the entrance.

PERSONALITIES:
| | |
| --- | --- |
| | Two Army Chaplains are buried here side by side:- |
Chaplain Rev. C.J.Hawksworth (B-2)
Royal Army Chaplains Department
Killed 7th July 1944, aged 35.
- Husband of Diana Hawksworth, of Kingsclere, Hampshire.

Chaplain Rev. G.Nesbett D.P.M. (B-1)
Royal Army Chaplains Department
Killed 5h July 1944, aged 33.
- Croix de Guerre (France).Son of Stephen and Jane Nesbitt, of Felling-on-Tyne, Co. Durham. D. Phil.
| | |
| --- | --- |
| | Several graves from the Durham Light Infantry are here, including three Lieutenants, one Captain and a young soldier: |
Pte J.Banks (B-15)
8th Bn Durham Light Infantry
Killed 21st July 1944, aged 16.
- Son of Jack and Fanny Banks, of Darwen, Lancashire.
ŠPaul Reed 2002-2006