JUNO BEACH
6th JUNE 1944
Juno Beach, Courseulles sur Mer, August 2002
HISTORY
Juno Beach was the sector allocated to Major General R.F.L.Keller's 3rd (Canadian) Division on D Day. The right flank was the 7th Canadian Infantry Brigade and 6th Canadian Armoured Regiment from la Rivičre to Courseulles sur Mer, in the middle was 9th Canadian Infantry Brigade with 27th Canadian Armoured Regiment (in reserve) from Courseulles to Berničres sur Mer, and on the left 8th Canadian Infantry Brigade with 10th Canadian Armoured Regiment in front of St Aubin sur Mer. They were to be assisted with specialist tanks from the British 79th (Armoured) Division to clear mines, and knock out pillboxes.
The objective on D Day was firstly to land on the beaches and secure all the villages on the Divisional front. Then push inland to a line ending on the Bayeux-Caen road.
Despite some localised opposition, the landings went generally very well with minimal casualties and fewer than 400 dead in the entire division. Although some D Day objectives were not reached, in several places Canadian units managed to push further inland than had been planned.
THE BATTLEFIELD TODAY
Being popular sea-side resorts, there has been a lot of building along the Juno sector, however, many bunkers still remain and the whole beach area is littered with memorials to the Canadian units that landed here on D Day. The casualties from the action are buried at Beny sur Mer Canadian War Cemetery.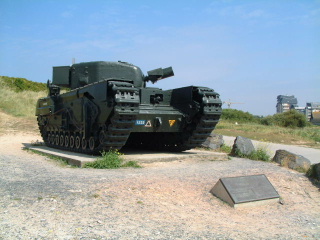 Churchill AVRE, Graye sur Mer
At Graye sur Mer is a good example of a Churchill AVRE belonging to 26th Assault Squadron RE, part of 79th (Armoured) Division attached to the 7th Canadian Infantry Brigade. The plaque on the memorial reads:
"This tank landed on Graye sur Mer at H Hour on D Day and was stopped on its way inland 100 m south of this spot. The members of its crew were killed or wounded.
It remains as a memorial to all those who gave their lives here."
In June 2003 a new Juno Beach Centre was opened by the Canadian government. This will enhance any visit to this important part of the Normandy coastline.
FEATURED LINK:

ŠPAUL REED 2002-2006