MERVILLE BATTERY MUSEUM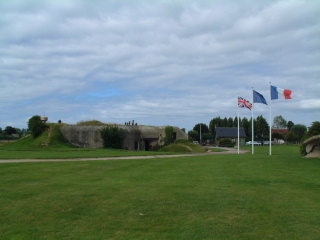 Merville Battery - August 2002
The Merville Battery was attacked by Lieutenant Colonel Otway's 9th Bn Parachute Regiment on D Day: a full account of the battle is found on the Pegasus Trail pages of the web site.
The museum tells the story of the Parachute operations and the later Commando action. The main displays are in one of the casemates, but you can walk all round the site and enter the others. There is a small gift shop/book shop at the entrance.
The museum is open from 1st April to 30th September daily. Between 1st-31st October and from 15th-31st March it is open: Monday, Wednesday and weekends. An entrance fee is charged.
For further details contact:
Musée de la Batterie de Merville
14810 Merville-Franceville

Tel/Fax: (0033) (0)2.31.91.47.53.
Email: museebatterie@compaqnet.fr

Web: http://www.marie-mervillefranceville.fr/
©Paul Reed 2002-2006