MUSEE DES ARCHIVES OMAHA BEACH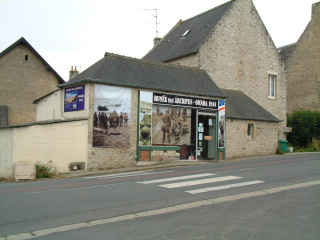 This new museum only opened in the summer of 2002. Started by Pierre-Louis Gosselin, it tells the story of the 1st Division's assault on Omaha Beach on 6th June 1944. At the moment it is still only a small museum, with one room of artifacts, a few larger ones outside and a reception area packed with photos, maps and personal accounts of the landings. Videos are on constant play, and a small amount of souvenirs and militaria is also on sale.
For 5€ per adult (3.5€ for children) it may seem a lot for such a small museum, but this new project deserves some support - and who knows where it will lead, as the young Monsieur Gosselin (he is only 24) is certainly passionate about the subject?
The Museum is open every day except Monday from 10.00 - 12.30 and 14.00 - 18.30. It is located on the main road from the Normandy American Cemetery at Colleville to Port en Bessin, and is less than 15 minutes from the cemetery itself.
For further details contact:
Musee Des Archives
La Vallee
14 Sainte Honorine-des-Pertes
Tel: 06 82 79 39 86
©Paul Reed 2002-2006