MUSEUM OF THE ATLANTIC WALL, OUISTREHAM
LE BUNKER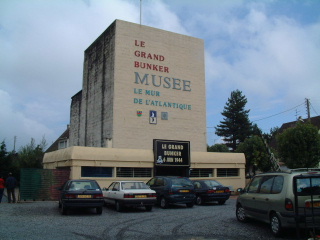 Situated inside a Fire Control Bunker at Ouisteham, which overlooked Sword Beach, this museum tells the story behind the Atlantic Wall defences along the Normandy coastline. The bunker was also the command center for all the gun batteries protecting the Orne estuary. As 3rd Division landed on Sword Beach, and the guns the bunker commanded were silenced, the garrison held out until 9th June, when a Royal Engineers officer, Lieutenant Bob Orrell of 91st Field Company, blew the entrance in and the occupants finally surrendered. Orrell and his men took two officers and 50 men prisoner, and for his exploits Orrell was awarded the Military Cross.
The museum has recreated what the bunker once looked like inside in 1944, with original equipment, and mannequins in uniforms of the garrison. There are also lots of photographs and maps on display, and in the upper level the large rangefinder is still in situ. From here you can enjoy fabulous views onto Sword Beach and east to the Orne estuary.
Outside is an 88mm Flak, a M7 Priest, a M5A1 and a M3 Half Track plus other larger artifacts from Atlantic Wall defences and bunkers.
It is open every day from 10.00-18.00 between 1st February and 15th November, and 09.00-19.00 every day from 1st April to 30th September. Free parking outside and a well stocked bookshop!
For further details contact:
Le Grand Bunker
Avenue du 6 Juin
14150 Ouistreham Riva Bella
France
Tel: 02 31 97 28 69. Fax: 02 31 96 66 05.
Email: bunkermusée@aol.com

MUSEUM OF THE ATLANTIC WALL PHOTO ALBUM
CLICK ON A PHOTO TO SEE A LARGER IMAGE

©Paul Reed 2002-2006