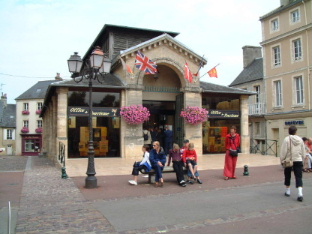 NORMANDY BATTLEFIELDS TOURISM
These notes are useful for visits to the D Day beaches, or the area of the Inland battles June-August 1944. Any questions let me know.
Please not I DO NOT stock tourist information leaflets; emails requesting this will be deleted.

BAYEUX TOURIST OFFICE
This excellent tourist office (see above image), in the heart of Bayeux, carries a full range of tourist information on the Normandy battlefields, as well as Bayeux itself. It also sells maps and guide books. English spoken. They publish each year an excellent 'Miscellaneous and Town Map' to Bayeux, as well as a guide to local hotels and restaurants. Both of these are free and are in English.
Office de Tourisme
Pont Saint Jean
14400 BAYEUX

Tel: 02 31 51 28 28. Fax: 02 31 51 28 29.
Web: www.bessin-normandie.com
Email: info@bayeux-tourism.com
CAEN TOURIST OFFICE
Located in the centre of Caen, it carries a good stock of tourist information leaflets and can help with accommodation. Some guide books also on sale.
Office de Tourisme
Place St Pierre
14000 CAEN

Tel: 02 31 27 14 14. Fax: 02 31 27 14 18.
Email: tourisminfo@ville-caen.fr
Web: www.tourisme.caen.fr
BUS ROUTES IN NORMANDY
Unlike some WW2 battlefields, there are good bus routes in Normandy with services between Caen and Bayeux, Bayeux and Ouistrem, and Bayeux to Grandcamp. These cover most of the main landing beaches. All the routes are operated by Bus Verts du Calvados, and free timetables can be acquired from the main tourist offices (above).
For further information telephone 0810 214 214 (in France only, info available 0700 - 2000 every day except Sunday).
Web: www.busverts.fr
ON-SITE BATTLEFIELD TOURS
There are numerous small companies that operate these out of Bayeux and Caen. For further details see the WW2 Battlefield Tours pages of this web site.
However, I am always happy to recommend Paul Woodadge's excellent Battlebus Tours: www.battlebus.fr
MUSEUMS
There are more than thirty five different museums in Normandy, but the three main ones are:
Musee Memorial de la Bataille de Normandie 1944
Boulevard Fabian Ware, BP 21215
14400 BAYEUX

Tel: 02 31 51 46 90. Fax: 02 31 51 46 91.
Web: www.mairie-bayeux.fr
Email: bataillenormandie@mairie-bayeux.fr
- This museum is a good place to start in the British sector. It looks at the fighting in Normandy both on and post- D Day, using uniforms, photos, objects and vehicles. There is a good film show, and a well stocked bookshop. A good first stop on any tour of the area, and it is within walking distance of Bayeux War Cemetery and the Bayeux Memorial.
D Day Landings Museum Arromanches
Place du 6 Juin
14117 ARROMANCHES

Tel: 02 31 22 34 31. Fax: 02 31 92 68 83.
Web: www.musee-arromanches.fr
Email: info@musee-arromanches.fr

- A superb and un-missable museum, this tells the story of the landings and the history of the Mulberry Harbour, the remains of which can be seen from the windows of the museum.
The Memorial Caen
Esplanade D.D.Eisenhower
14066 CAEN

Tel: 02 31 06 06 44. Fax: 02 31 06 06 70.
http://www.memorial-caen.fr/
Email: resa@memorial-caen.fr

- This is a modern museum which styles itself as a 'peace museum' rather than a war museum. It is modern in its approach and structure, and there is more emphasis on interpretation rather than history. However, it is worth a visit, and has a good bookshop and a library/research centre which it is free to use.
For details of some of the others, see the Normandy Museums part of this site.
NORMANDY TERRE-LIBERTE

Some years ago the local tourist authorities in Normandy established eight signposted routes, looking at different phases of the fighting from the landings, to battles in the Bocage, to the final breakouts. The eight routes have different names, and are signed using signs similar to that above. At major points along these routes are multi-lingual information totems which tell you the history behind the location you are visiting. To back this up a free-leaflet about the routes is available, and you can buy a more detailed guide-book called 'The Battle of Normandy' published by Gallimard.
This is a great way to explore Normandy for the first time, and is highly recommended.
The leaflet and guidebook are available from many of the museums, and the two main tourist offices listed above.
PLACES TO STAY
Featured Link
La Fiere B&B; link to excellent B&B in Normandy. Recommended!
Normandy abounds with Hotels and Bed & Breakfast establishments. Information on these are normally available via local tourist offices, who usually publish lists of those in their area. A few of them are English run, but as yet there are no 'battlefield B&Bs' as are found on the WW1 battlefields.
The Normandy Tourist Board (Comité Régional de Tourisme de Normandie) website is useful for all accommodation requests:
http://www.normandy-tourism.org/gb/index.html
Another useful site is offered by France Hotels. They offer an on-line booking service for the main hotels in the area:
http://www.francereserve.com/Hotels_in_Normandy.htm

MAPS
There are several general Michelin sheets that cover the area. The Michelin reprint of the 1947 touring map No 102 'Battle of Normandy' is also useful, as is No 105 'Road To Liberty' which is the map of the entire Liberty Way.
The Institute Geographique National (http://www.ign.fr) are the most detailed maps. Their 'Green Series' (1/100,000 scale) are suitable if you want to cover the area by car. Sheets no 6 and 7 cover the entire Normandy battlefields. These are now widely available from bookshops in the UK. For a more detailed coverage, the 'Blue Series' (1/25,000) are excellent. These are more difficult to find outside of France, but most large bookshops and newsagents in Bayeux and Caen stock them, and they can be purchased on-line via the IGN web site. Two special sheets have been produced in their 'Top 25' series of 1/25.000 maps. Sheet 1412 OT covers Omaha beach and inland to St Lo. Sheet 1612 OT covers Sword, Juno and most of Gold, plus inland to Caen.
The Major and Mrs Holt Battle Map of the Normandy Landing Beaches is also available, and this is good for the main D Day beaches but less so for the inland battle areas. You can buy it on its own, or it comes free with the guidebook of the same name produced by Pen & Sword; it can be ordered on the Holts website at: http://www.guide-books.co.uk/.
In Normandy itself you can buy the 'Battle of Normandy' map which shows the entire area, along with all the museums. The map is produced by the Comité du Débarquement.

SUGGESTED READING
The new Battlezone Normandy Guidebooks, produced in 2004, are excellent companions to visiting the Normandy battlefields. For further details see:
http://www.ddaycasualties.com/battlezone.htm
While there is a wealth of books about D Day and the Normandy campaign, the following are useful for visiting the battlefields:
Chicken, S. - Overlord Coastline: The major D Day locations (Spellmount 1993)
Copp, T. - A Canadian's Guide to the Battlefields of Normandy (Wilfred Laurier University 1994)
Dunphie, C. &
Johnson, G. - Gold Beach (Pen & Sword 1999)
Kilvert-Jones, T. - Omaha Beach (Pen & Sword 1999)
Kilvert-Jones, T. - Sword Beach (Pen & Sword 2001)
Saunders, T. - Hill 112 (Pen & Sword 2001)
Shilleto, C. - Pegasus Bridge & Merville Battery (Pen & Sword 1999)
Shilleto, C. - Utah Beach: St Mere Eglise (Pen & Sword 2001)
Shilleto, C. &
Tolhurst, M. - A Travellers Guide to D Day & The Battle for Normandy (Windrush Press 2000)
Woods, B.D. - Footsteps of D Day (Kent Publishing 1994)
Zaloga, S.J. - Osprey Campaign 88: Operation Cobra 1944 (Osprey 2001)

©Paul Reed 2002-2010
Page Last Updated: 13/08/2010