MUSEUM OF NORMANDY WRECKS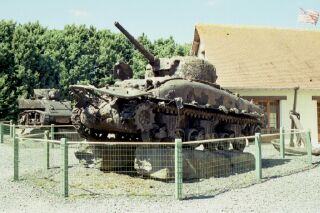 Sherman DD tank
Following the Normandy Landings, a great many tanks, vehicles and vessels lay out on the sea floor off the Normandy coast. This ranged for ships sunk deliberately to act as break-waters, to tanks and landing craft knocked out on D Day. By the late 1960s many of these were proving hazardous to fishing boats and small craft that operated in the area, and the French government brought in scrap dealers and recovery teams to remove them.
One such team was led by Jacques Lemonchois, who founded this museum in the 1970s when, realising the historical importance of many of the items he was retrieving for scrap, made a conscious decision to preserve them and open a museum in which the wrecks could be displayed.
The museum now houses a staggering array of American tanks brought up from the sea-bed on the Omaha Beach sector. These range from Sherman DD tanks (from 741 Tank Bn US Army) swamped as they came in through rough seas on D Day, to M7 Priests and Sherman bulldozers which were knocked out and sunk in LSTs. Many other items from ships and landing craft of all types are on display, along with personal items of soldiers found in some of the vehicles. This includes the artifacts of PFC John H. Glass, of 58th Armoured Field Artillery, who left behind his kit inside an M7 Priest on D Day. Lemonchois and his team found the items in perfect condition and traced Glass, still alive in the US! His remarkable story is related in the museum.
The museum is open from 10.00am to 12.00pm, and 2.00pm to 6.00pm every day from 1st June to 30th September. During May it is only open at the weekends. Located on the main road from Bayeux into Port-en-Bessin, it is easily found and is well signposted. There is parking, and an entrance fee is charged. The museum has a shop in which certain items found on the sea bed are for sale.
For further details contact:
Musee des Epaves
Route de Bayeux - B.P. 9
14520 Port-en-Bessin
France
Tel: 02 31 21 17 06
MUSEUM OF NORMANDY WRECKS PHOTO ALBUM
CLICK ON A PHOTO TO SEE A LARGER IMAGE
ŠPaul Reed 2002-2006