MAISON DE QUEEN'S OWN RIFLES OF CANADA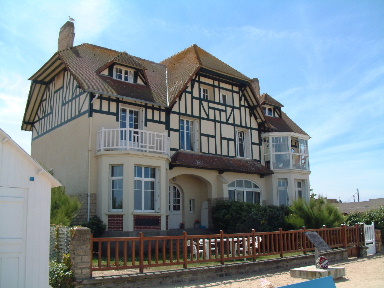 Juno Beach, July 2003
The Maison de Queen's Own Rifles of Canada commemorates the men of this Regiment, part of 3rd (Canadian) Division, who landed here on 6th June 1944. This part of the D Day invasion was filmed, and the house appears in many of the official photos and newsreels of the time - in some ways it is one of the most famous houses in Normandy!
The plaque in front of the house reads:
In Pace Paratus

This house was liberated at first light on D Day 6th June 1944, by the men of The Queen's Own Rifles of Canada who were the first Canadians to land on this beach. It may very well have been the first house on French soil liberated by seaborne Allied Forces. Within sight of this house over 100 men of The Queen's Own Rifles were killed or wounded, in the first few minutes of the landings.
| | | | |
| --- | --- | --- | --- |
| | | | |
| Side view of the house. | Memorial plaque on the wall of the house. | Memorial in front of the house. | View down Juno Beach from the house. |
ŠPaul Reed 2002-2006