NORMANDY BATTLEFIELD GUIDE:
TILLY SUR SEULLES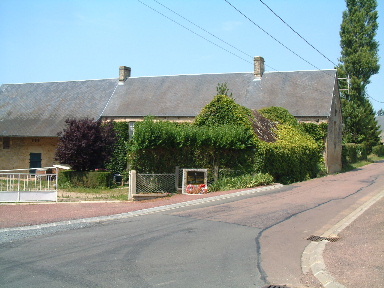 Sherwood Rangers Memorial
The memorial is located on the D82 in the north-east area of the village. From the centre of Tilly take the D13 to the church, then turn left on the D82. Follow to a cross-roads shown on the map as 'Maison des Trois Cheminées'; the memorial is on the left just outside the farm buildings. You can park close to the farm entrance, but take care not to block it.
The Sherwood Rangers were part of 8th Armoured Brigade, and landed on Gold Beach on D Day. They were the first British unit to enter Bayeux, and supported 50th Division in the push south towards Tilly and the Bocage. The men from the Regimental HQ were killed by a direct hit from a 105mm shell on Point 103.
The memorial reads:
IN MEMORY OF THE OFFICERS OF THE REGIMENTAL HEADQUARTERS OF THE NOTTINGHAMSHIRE (SHERWOOD RANGERS) YEOMANRY (8th ARMOURED BRIGADE) WHO WERE KILLED HERE ON 11th JUNE 1944 BY AN ENEMY SHELL AND ARE NOW INTERRED IN THE BRITISH WAR CEMETERY TILLY-SUR-SEULLES.

MAJOR M.H.LAYCOCK MC COMMANDING
CAPTAIN G.A.JONES ADJUTANT
LIEUTENANT A.L.HEAD INTELLIGENCE OFFICER

THIS PLAQUE WAS ERECTED IN 1994 BY THEIR FORMER COMRADES

The Memorial (click to enlarge)
©PAUL REED 2002-2006