ST MARTIN DES BESACES
31st JULY 1944
View down the main road in St Martin des Besaces, August 2002
HISTORY
St Martin des Besaces was one of the initial objectives during Operation Bluecoat which was launched south of Caumont on 30th July 1944. German resistance in this area was considered weak, and three British Army Corps were allocated to attack here. VIII Corps on the right was to advance on Hill 309, just outside St Martin, XXX Corps had as its objective Mont Pincon, and XII Corps was to take Villers-Bocage.
The advance south from Caumont was lead by 15th (Scottish) Division, supported by 4th Guards Tank Brigade, and elements of the 11th (Armoured) Division. Hill 309 was captured by 7pm on the 30th July by the 4th Coldstream Guards under Major Sir W.Bartelott, who was given command of the Brigade as a result of his unit's epic battle here (and post he only held for less than two weeks until he was killed on 16th August). 11th (Armoured) Division was then sent in to take St Martin des Besaces, which they entered on 31st July. By this stage VIII had created a Salient five miles deep into enemy held ground, and inevitably counter-attacks, from 21st Panzer Division, followed. Heavy fighting revolved around St Martin the next day, but with heavy losses to both sides the Germans withdrew, and meanwhile reconnaissance elements from 11th (Armoured) had found a bridge intact across the La Souleuvre river into Beny Bocage, and the fighting continued.
THE BATTLEFIELD TODAY
The full story of the fighting here is related in the Musee de la Percée du Bocage, in the centre of St Martin des Besaces.
Elsewhere in the village is the rue de la XIeme Division Blindée Britannique (see below), and on the road east from the village, is Hill 309.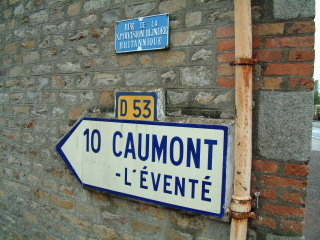 rue de la XIeme Division Blindée Britannique

Memorial plaque in Rue de la XIeme Division Blindée Britannique
Here are Hill 309 is the memorial to Brigadier Sir W.Bartelott, recording the fact this was named 'Coldstream Hill' after the action here in 1944.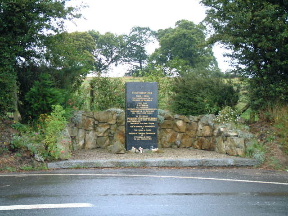 Hill 309 Memorial

Detail of the main stone
©PAUL REED 2002