STOP 1 - PEGASUS BRIDGE & GONDREE CAFE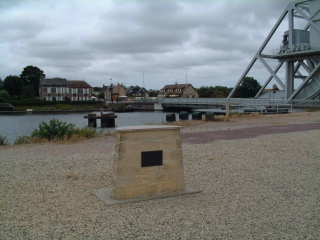 Pegasus Bridge was the objective of 6th (Airborne) Division's 'coup de main' force on the night of 5th/6th June 1944. Three gliders dropped within yards of the target, the road bridge across the Caen canal. Inside were men from Oxs and Bucks Light Infantry Airborne, under the command of Major John Howard. In what has been called some of the best flying of the war, the three gliders came down close to the bridge, and the advanced party under Lieutenant Den Brotheridge stormed the defences. Brotheridge was killed on the other side of the bridge, just short of the nearby Gondree Cafe. With this bridge, the bridge across the Orne secured by another party from the Oxs and Bucks, Howard had achieved his objectives in ten minutes and sent the radio message 'Ham and Jam' to indicate both positions had been taken intact.
7th Para then arrived, and the crossroads in Benoueville were held for the rest of the day, despite attacks from elements of 21st Panzer Division. Lord Lovat's commandos arrived along the road from the direction of Ouistreham, and the link up was complete.
The Gondree Cafe had been used as an aid post, and the cafe owner, Monsieur Gondree, dug up his supply of champagne from the garden and gladly shared it with his liberators.
Today the cafe has become the first stop for any visitor to this part of the battlefield; it is still owned by the Gondree family, and still a cafe; but inside is like a living museum. The original Pegasus Bridge was replaced in the 1990s, but is now preserved in the grounds of the nearby Airborne Museum. There are plaques on the site of where the gliders came down and a memorial to John Howard. Overlooking the bridge is the first of the Pegasus Trail orientation tables (see photo above).

PHOTO ALBUM
From Pegasus Bridge go east across Horsa Bridge to the roundabout. Take the third exit for Merville on the D514, and follow to the next junction; here turn right for Ranville, and stop on the verge by the Orientation Table - Stop 2.
WEB LINK
The original Pegasus Bridge museum run by the Gondree family, which was located close to the Cafe, now has a website. The link to this site is:

ŠPAUL REED 2002-2007