STOP 2 - DROP ZONE 'NAN'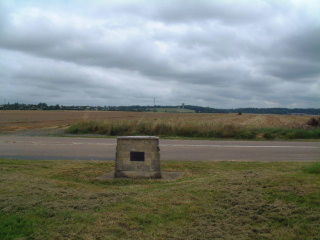 Pathfinders were the first to drop here, to mark out the drop zone for those landing later. Some forty minutes afterwards came the main drops of 7, 12 and 13 Para - all of whom widely scattered around the Drop Zone. 7 Para moved off to the bridges and 'coup de main' force, the others towards the Eastern Flank.
Sappers from 591 Para Sq RE then cleared the area of anti-glider poles in preparation for the gliders that would follow. These began to arrive just before dawn on D Day, and brought in more airborne troops, jeeps, artillery and Terrach tanks from the divisional recce unit.
From here continue through Ranville, following the signs for Herouvillette. Turn right on the D37 into the village, at the next T junction turn left on the route de Caen. As you come out of the village, there is a lay-by on the left, bordered by a tall hedge, just before you meet the new modern road to Caen. Turn into here for Stop 3.
ŠPAUL REED 2002-2006