STOP 4 - 1st CANADIAN PARACHUTE BN MEMORIAL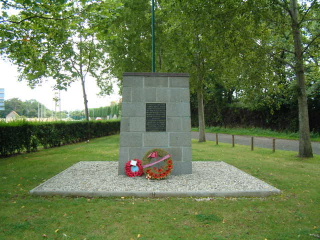 The 1st Canadian Parachute Battalion dropped on DZ/LZ 'V' near Varaville. Each of their companies had a different task on D Day, which included supprting 9 Para in the attack on Merville Battery, destroy the bridge at Robehomme, secure the area of the DZ and also knock out the bridge over the Divette at Varaville. Wide dispersal of men over and around the DZ meant that not all of these objectives were possible, but the key bridges were knocked out, and the survivors made a rendez-vous here at the Le Mesnil cross-roads later on 6th June. The battalion was then involved in the defence of the this key high ground along the Eastern Flank, with their HQ in the nearby Poterie de Bavent (which is still a pottery and is open to the public).
Also here is a memorial to Brigadier James Hill DSO MC, who commanded 3rd Parachute Brigade on D Day. His HQ was naer to here in June 1944.
Memorial to Brigadier James Hill DSO MC
From here continue on the D37 in the direction of Troarn. At the next T-junction turn left, and after around 300 metres there is a memorial on the left, close to the entrance of a chateau. Parking is difficult here. This is Stop 5.
ŠPAUL REED 2002-2006