NORMANDY BATTLEFIELD GUIDE:
TILLY SUR SEULLES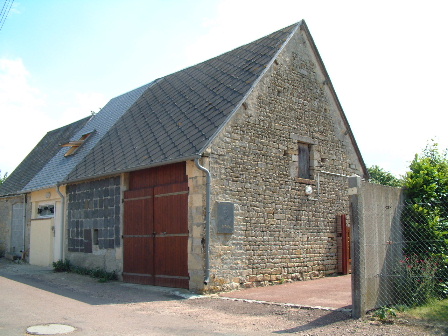 Tilly 'Badge House'
The house is located close to the Sherwood Rangers memorial off the D82 in the north-east area of the village. From the centre of Tilly take the D13 to the church, then turn left on the D82. Follow to a cross-roads shown on the map as 'Maison des Trois Cheminées'; here turn right, and the house is on the right. You can park in the street. Remember this is a private house - please respect the privacy of the owners.
This fascinating house is decorated with the badges of British and Commonwealth Regiments, and British and American divisions, which served in the Normandy campaign. The badges are carved into slate, and appear to be copies of the types of badges which are engraved on headstones in CWGC cemeteries. They are all mounted into the road side outside wall of the house. At the entrance to the property is a much larger badge with the insignia of the Durham Light Infantry on it. Battalions of this regiment fought close by with both the 49th (West Riding) and 50th (Northumbrian) Divisions.
I was directed to this house by the staff of the Tilly War Museum, who did not know why these badges had been put here; no-one was in when I visited, so I couldn't enquire the reason why - I hope to solve this mystery on a future visit!
©PAUL REED 2002-2006