TILLY SUR SEULLES WAR MUSEUM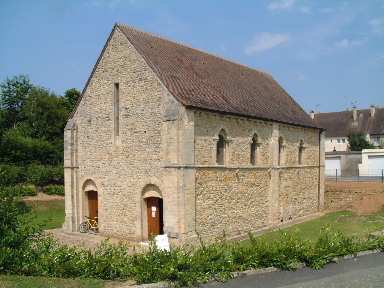 Tilly sur Seulles became one of the most fought over parts of the Normandy battlefield, the ruins of the village changing hands several times in June 1944. It was reached by elements of 50th (Northumbrian) Division not long after D Day, just as the Panzer Lehr division arrived to stem the allied advance. Panzer Lehr planned to make an attack around Tilly on 10th/11th June, but their HQ group was wiped out in a bombing raid on Thury-Harcourt, so they found themselves fighting a defensive battle instead. Within a few weeks most of their original 184 tanks and 600 AFVs were knocked out, with heavy losses among personnel. Tilly was finally captured, and 50th Div set up their line to the west towards Lingèvres and Longraye - which hardly moved for the next month or so.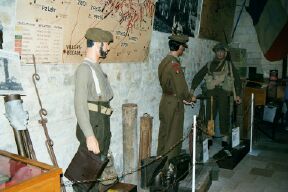 Interior of the Museum
The museum is located in an old chapel, and outside are several small memorials. Inside is a wide variety of uniforms and equipment, as well as numerous photos and maps of the area. One of the best of the small museums dedicated to a specific area of the Normandy battlefield.
Musée de la Bataille de Tilly
Chapelle Notre Dame du Val
14250 Tilly-sur-Seulles
Tel: 02.31.80.80.26.
Fax: 02.31.80.72.89.
Open from 1st May - 30th September every year.
LINK TO TILLY BATTLEFIELD GUIDE PAGES
©Paul Reed 2002-2006