TYNESIDE SCOTTISH MEMORIAL
DUCHY ST MARGUERITE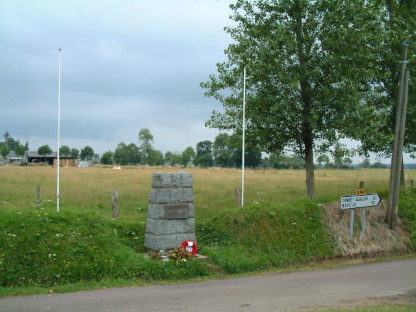 The 1st Battalion Tyneside Scottish (Black Watch) were part of 70th Infantry Brigade, 49th Division in Normandy. They landed on Gold Beach on 11th June, and their first action was at Tessel Wood on 26th June during Operation Martlet. They then fought at Rauray on 1st July, took part in the fighting for Caen and the breakout in August. 70th Brigade was disbanded on 20th August, the majority of the Tyneside Scottish being posted to the 51st (Highland) Division.
They had left behind 171 dead during the Normandy campaign. Today most are buried in Banneville and St Manvieu War Cemeteries.
UPDATE - THE UNVEILING OF THE MEMORIAL
I am grateful to author and historian Kevin Baverstock who sends the following account:

The establishment of a memorial in Ducy-Ste-Marguerite was solely the brainchild of Major John Samson, a Tyneside Scot, who in 1984 created a dossier of 50 veterans' accounts of the Rauray battle, 1.7.44. These accounts now form part of the narrative of my new book 'Breaking the Panzers', which was published by Sutton Publishing in July 2002.

The memorial was unveiled in 1979 by Brigadier Montieth, then Colonel of The Black Watch (RHR), the Battalion's parent regiment in Normandy, and has united the village with the memory of the 1st Tyneside Scottish ever since.

On Friday 28th June 2002, Rauray veterans and members of 204 Battery (Tyneside Scottish), 101 Regiment RA (V), the present day Tyneside Scottish, took part with locals in a ceremonial procession and wreath laying at the memorial.

The photographs attached show:

1. Two of the Rauray veterans who attended the wreath laying ceremony; left, Sapper Bill Hudson, 757 Field Company, RE, and right, Sgt. Sam Swaddle, A/Tk Platoon, 1st Tyneside Scottish, whose 6 pounder A/Tk gun knocked-out two German tanks during the Rauray battle.

2. The ceremonial march to the memorial, headed by the pipes and drums of 204 Battery.



Photo1 (ęKevin Baverstock)

Photo2 (ęKevin Baverstock)

For a review of Kevin Baverstock's book Breaking The Panzers click here.
ęPaul Reed 2002-2006