VENRAY WAR CEMETERY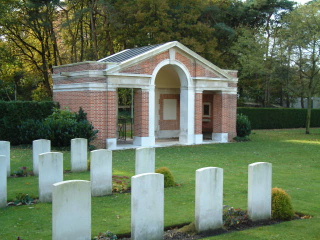 British - 629
Canadian - 22
New Zealand - 5
Australian - 4
Polish - 1
War Correspondent - 1
Unidentified - 30
HISTORICAL INFORMATION:
The Netherlands fell to the Germans in May 1940 and was not re-entered by Allied forces until September 1944. The town of Venray was liberated by Allied troops in the middle of October 1944, and the burials in the cemetery date from October 1944 to March 1945. Venray War Cemetery contains 691 Commonwealth burials of the Second World War, 30 of them unidentified, and one Polish burial.
Soldiers from 3rd Infantry Division and 11th (Armoured) Division are particularly numerous here, along with men from 6th (Airborne) Division who were in this area prior to the Rhine Crossing in 1945.
LOCATION:
Venray is located 40 kilometers east of Eindhoven in the south east province of Limburg. Approaching from Helmond, via the road to Venray, lies the first exit in Venray to Overloon (N270). From the first crossroads along this road turn left and follow signposts to the cemetery.
PERSONALITIES:
| | |
| --- | --- |
| | Captain R.H.A. Gregory 2nd Fife & Forfar Yeomanry, Royal Armoured Corps |
- Killed 18thth October 1944, age 29.
- Son of Horace Shapland Gregory and Elizabeth Wingfield Gregory, of Christchurch, Hampshire.

| | |
| --- | --- |
| | William Ripon War Correspondant - Peterbough Citizen and Adviser |
- Killed 16th March 1945.
ŠPAUL REED 2002