WW2 BATTLEFIELD TOURS
TOUR OPERATORS OPERATING TOURS TO WW2 BATTLEFIELDS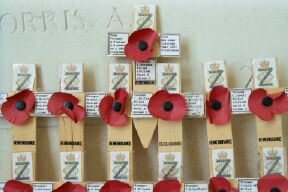 While it is now easy to visit the battlefields in Europe yourself (for example by using the Battlefield Tourism pages on this site), especially places like Arnhem, Bastogne and Normandy, there is nothing like seeing them for the first time in the company of an expert guide. Here I have listed some of the leading tour companies which offer tours to WW2 sites, and while I occasionally work for some of them myself, I have tried to include details of as many as I could find via the Internet. Which I hope means I won't be accused of any bias! Most companies start their tours in the UK or USA, but a few operate out of the battlefields themselves, and again I have included details of them as well.
Tour operators are listed in alphabetical order, and not in any order of preference!
PLEASE NOTE - I do not stock leaflets for these companies. In all cases contact them direct for information on their tours.
Paul Reed

BATTLEFIELD TOUR SPECIALISTS IN THE UNITED KINGDOM
Holts (http://www.battletours.co.uk/)
One of the oldest battlefield tour companies, Holts was started by Major and Mrs Holt in the 1970s. While they no longer have any connection with the company, specialist guides accompany every coach, many of them former senior ex-military . They have an extensive portfolio of WW2 tours, including Arnhem, Normandy, Battle of the Bulge, and further afield to the Western Desert and Burma.
Email: info@holts.com
Leger Holidays (http://www.visitbattlefields.co.uk/ )
Now one of the leading battlefield tour operators, with more than 10,000 people traveling in 2010, Leger offer a wide range of WW2 tours. The 4 Day Normandy looks at the landing beaches and airborne operations, while the 5 day tour also examines some of the inland battles as well. Other tours include Arnhem, the Atlantic Wall bunkers, Battle of the Bulge, Itally and Dam Busters and Colditz. New for 2011 is Walking D Day. Specialist battlefield guides accompany every tour.
Email: enquires@leger.co.uk
War History 1944 Battlefield Tours (http://www.warhistory1944.co.uk/)
War-history 1944 specialises in Battlefield tours of Normandy, The River Seine and Arnhem/Nijmegen/Eindhoven and the Ardennes/Bulge. It is headed by a well-known American author whose book on the Normandy Battlefields is a standard work in the United States, and a retired regular soldier ( Exeter University, Balliol and the Staff College Camberley ).
Email: tours@warhistory1944.co.uk

War Research Society - Alex Bulloch (http://www.battlefieldtours.org.uk)
Founded by Alex Bulloch the company is a registered charity and works closely with ex-servicemen's associations, and its personnel are largely former policeman or servicemen. It offers a range of WW2 tours. Cemetery visits a speciality.
Email: info@battlefieldtours.org.uk
War Research Society Battlefield Tours (http://www.battlefieldtours.co.uk/index.htm)
Based in Birmingham, Ian Alexander's company offers a wide range of WW2 tours including Arnhem, Berlin, The Bulge, Dunkirk, Normandy and the Italian battlefields. Further afield, they also offer tours to Singapore and Burma. Most of their guides are former police officers.
Email: Battlefield Tours and The War Research Society
SMALLER BATTLEFIELD TOUR SPECIALISTS IN THE UNITED KINGDOM
These smaller operators generally supply specialised and tailor-made tours in MPVs or similar vehicles. In all cases contact them direct for details.
In The Footsteps Tours (http://www.inthefootsteps.com)
Operated by Ian Gumm and his team of guides.
Email: info@inthefootsteps.com
TOUR OPERATORS IN THE USA/CANADA
MILSPEC TOURS (http://www.gomilspec.com/)
An American tour company offering personally conducted tours for American veterans and their families to the invasion beaches of Normandy and Battle of the Bulge battlefields. Full details of 2003 departures on website soon.
Email: info.europe@gomilspec.com
NORMANDY BATTLEFIELD TOURS (http://www.normandybattlefields.com/)
Tours to main US Battlefields in the ETO, including D Day, Arnhem and the Battle of the Bulge. The site also sells maps and books, which you can buy via the Paypal system.
Email: Normandytours@aol.com

THE MAPLE LEAF FOREVER (http://www.themapleleafforever.com/)
Canadian based company that offers tours of the Canadian WW2 battlefields in North-West Europe (D Day, Dieppe, Belgium and Holland) and Italy.
Email: colleen@colwoodtravel.com
BATTLEFIELD TOURS IN BELGIUM
Trench Map Tours (http://www.trenchmaptours.com/)
Owned and run by former soldier Iain McHenry, the company offers tailor-made tours to WW2 sites in Belgium, and especially the Battle of the Bulge battlefields around Bastogne in the Ardennes. Air port pick-up in Belgium possible. One off visits to war cemeteries in Belgium also possible.
Email: tours@trenchmaptours.com
BATTLEFIELD TOURS IN ITALY
GOTHIC LINE BATTLEFIELD TOURS (http://www.gothiclinetours.com/)
As far as I am aware, this is the only company offering on-site tours of some of the WW2 Italian battlefields. Organised and led by military history enthusiast Costantino Sestini, at the moment they cover the Gothic Line battlefields reachable from the Florence area. Accommodation for this sector is also on offer.
Email: costantinosestini@hotmail.com

BATTLEFIELD TOURS IN NORMANDY
All these companies offer on-site tours in the Normandy battlefields area.

D DAY HISTORIAN http://www.ddayhistorian.com/
Paul Woodadge formed the well known Battlebus Tours in Normandy, which he closed last winter to return to solo guiding. Paul's knowledge of the Normandy battlefields is impressive and he is a guide in high demand, but highly recommended.
Contact:
Tel: 0033 02 31 222 882.
Email: D Day Historian
D DAY LINE http://www.busverts14.fr
This is a special bus route that departs from Caen railway station every day at 09.30 and returns there at 18.15. En-route it visits: Courseulles, Arromanches, US Cemetery Omaha Beach, and Pointe du Hoc; it then returns via the same route. The service operates from 1st July to 4th September only. No guide.
Tel: 0810 214 214.
D-DAY TOURS www.normandywebguide.com
Daily tours starts from Bayeux close to Tourist Office and upon request other pick up locations are available. Two main tours available. In the morning a tour of the British sector leaves at 08.30 and returns for 12.00. In the afternoon there is a longer tour of the main American beaches and sectors; departing Bayeux at 12.50pm. It is possible to combine both tours for a full day. Reservation advised.
Contact: D Day Tours, BP 48424, 14400 Bayeux, France.
Tel: 00.33.231.517.052. Fax: 00.33.231.517.474.
Email: francois.gauthron@wanadoo.fr
LES TAXIS DU BESSIN
A Bayeux based taxi firm which offers visits to and small tours of the main D Day sights. Price depends on location and the amount of time spent there. Commentary in English. 50% surcharge for Sundays and Public Holidays. Each taxi holds up to 7 people. Reservation is recommended, especially during the main Summer season.
Contact: Les Taxis du Bessin.
Tel: 02 31 92 92 40. Fax: 02 31 92 28 60.
NORMANDY TOURS
Picking up at Bayeux Railway station every day, at 08.30 for the morning tour and 13.00 for the afternoon tour. The tour lasts from 4-5 hours and includes: Gold Beach, Longues Battery, Omaha Beach and Pointe du Hoc. Tour price includes entrance to museums. Guide is French, but speaks English.

Contact: Normandy Tours, 26 Place de la Gare, 14400 Bayeux, France.
Tel: 02 31 92 10 70. Fax: 02 31 51 95 99.
OVERLORD TOURS (http://www.overlordtour.com)
Based in Normandy and the Champagne, this company offers tours to the Normandy Battlefields of WW2 and the war museums and battlefields where the "American Expeditionary Force" in 1917/18 fought. Day tours and longer packages available. Guide is French, but speaks very good English.
Contact: Overlord Tours, 59 rue St Denis, 02130 Villers-sur-Fère, France.
Tel: (+33) 323 826 511.
VICTORY TOURS (www.lignerolles.homestead.com)
Picking up in the car park behind the Tourist Office (Pont Saint Jean) the half-day tour visits British War Cemetery Bayeux, Longues Battery, Port en Bessin, Omaha Beach, US Way Cemetery and Pointe du Hoc. There is also a full day tour which visits Utah Beach and St Mere Eglise. Lunch is not included. Guide is Dutch, but speaks fluent English. The company also has B&B available at Chateau de Lignerolles, 8 miles from Bayeux.
Contact: Victory Tours, Chateau de Lignerolles, 14490 Planquery, France.
Tel: 02 31 51 98 14. Mobile: 06 751 288 28. Fax: 02 31 51 07 01.
Email: victorytours@wanadoo.fr
BATTLEFIELD TOURS IN GERMANY
All these companies offer on-site tours on the German battlefields.

KLEVE WWII BATTLEFIELD TOURS http://www.klevetours.com/
Kleve WWII Tours is offering you three different guided tours around the battlefields in the Kleve (Reichswald) area, Arnhem and Nijmegen. The majority of the tours are day tours, but arrangements can be made if you want to take a shorter tour. We also offer you full historical narration as we travel from one site to another. All our tours are designed for people who want to know what happened and why it happened and a great deal of time is spent in discussion on site. The group sizes are also limited to a maximum of 8 people, which means that we really can take the very best care of you and make your tour experience a memory for life. You could say that our philosophy is: Small groups = Very personal!
Email: info@klevetours.com